Christmas 2017
Dear Brothers and Sisters in Christ,
I would like to address an issue that has become quite serious and has devastating effects on many in our society. The issue is the frequent viewing of sexually explicit and inappropriate images on the internet. This influence has far reaching consequences to all of our families. As your pastor, I urge you to read this letter and pray for our parish. Before you say, "not my child, not my family" consider these sobering statistics….
5 is the average age a child is first exposed to harmful images.
83% of men and 49% of women say viewing explicit materials is an acceptable way of expressing one's sexuality.
68% of men and 18% of women use explicit materials at least 1 time per week.
50% of Christens say that pornography is a major problem in the home.
Parents  of middle-school age kids, teenagers and young adults have many resources available to guide them.
Remember that sexual sin is a sickness; have great empathy for your child.
Gently reach out to your child. Don't shame them, let them know they are loved and that they are not alone in their struggles; help them to find someone to talk to.
Educate yourself on sexual sin. Visit sexualpurityTexas.com for helpful information.
If you have a teenager that is struggling with sexual sin, we have a letter just for parents on how you can lovingly and effectively approach your child. For very young children, there is a book titled Good Pictures, Bad Pictures, that explains what pornography is in a non-graphic, very matter-of-fact way and gives your child a preventative solution if they happen to come across harmful, indecent images.
Men & Women struggling with sexual sin.
Know that you are deeply loved by the Heavenly Father and He can lead you out of your sin.
It won't be easy, but He never fails. Recognize your humanity and allow God's MERCY and GRACE to come into your life.
Visit SexualpurityTexas.com for information on support groups, phone groups, retreats, counseling, accountability partners, internet filters and more.
Attend a support group. Holy Spirit currently has a support group for men and more groups are available in the Lubbock area.
Get a LICENSED Sex Addiction Therapist.
Spouses that have been betrayed by sexual sin
It is important to know that it is not your fault.
Participating in a safe community is essential to getting the support & healing you need.
Visit SexualpurityTexas.com for more information and support.
Attend a support group. Holy Spirit has confidential meetings that offer support to spouses.
Get a LICENSED Sex Addiction Therapist.
If you or someone you love, needs guidance with this issue please contact Holy Spirit at HolySpiritaddictions@yahoo.com All communications will remain confidential.
Sincerely,
Father Rudi
June 2017
28th Ordination Anniversary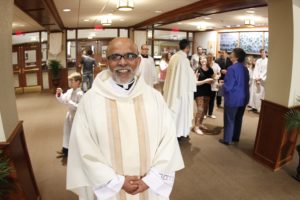 Father Rudi celebrated the 28th Anniversary of his Ordination on Sunday, April 23
rd
. Please keep him in your prayers as he completes another year of service to the Church. We thank you Father Rudi, for sharing so generously the gifts you have received from God.
Prayer for Priests
Father, you have appointed you Son Jesus Christ eternal High Priest. Guide those he has chosen to be ministers of word and sacrament and help them to be faithful in fulfilling the ministry they have received. Grant this through our Lord Jesus Christ, your Son, who lives and reigns with you and the Holy spirit, one God, for ever and ever. Amen.
"The Lord is risen, it is true!" Through our baptism, He calls us to proclaim new life to the world. Pray for those who herald the Good News as priests, brothers and sisters. If you think God may be inviting you to such a vocation, contact Father John Ohlig at the Vocation Office at 806-792-3943 ext 226 or email johlig@catholiclubbock.org.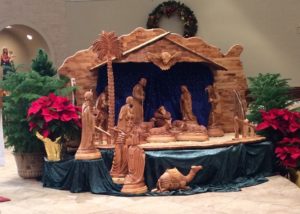 Dear friends,                                      January 5, 2017
This Christmas has been wonderful and the church was beautifully decorated. The nativity manger was the jewel of the crown. There were over 3000 people for that Christmas week-end. I enjoyed both the choirs; absolutely memorizing. The children's pageant was very well done. I really enjoyed the Christmas-Eucharistic celebrations; very devotional. The number of confessions; heard by 8 priests for 3 hours is spiritually  satisfying. The joy and enthusiasm of the people gave me more reasons for my dedication to the priesthood and our parish. Finally, the love for the poor poured out through our Christmas angel-tree.
I just want to acknowledge your personal part in my joy. Your greetings and gifts were a great celebration for me. I really do appreciate them. Sorry, I could not reciprocate before Christmas as that was quite a time of engagement. Please accept my gratitude.
Yours truly,
Fr. Rudolf Crasta
Dear Parishioners,                 November 30, 2016
The season of Advent is here and the end of the year is quickly approaching. The fall passed quickly with my time spent on sabbatical in Italy, Greece and the Holy Land. Changes in the diocese occurred during my time away, most notable perhaps, was the naming of our new Bishop, Msgr. Robert Coerver, by Pope Francis. I was blessed with thanking Pope Francis in person. Now, let us come together to give support to Bishop Coerver as we work to rebuild our diocese. Vocations to the priesthood will be a priority. We will watch to see the changes that take place and also the changes that a new president elect for our country might bring.
I am excited about the Stewardship initiative of the development commission; Time, Talent and Treasure. We are grateful to the many parishioners who tithe towards the parish. We have reduced our debt from $7.5 million to $5.3 million while we have paid all other expenses. Even with our debt reduction plan, we still set aside funds to help those most in need in our community. Holy Spirit is beyond generous when there is a need and even now our Basket 52 is literally over flowing.
The faith formation classes that Holy Spirit is known for, though not currently as well attended as I would like, are more varied than before. Our children's education program is ever growing and our parish registrations are growing along with it. The Parent's Day Out program, which began as a two day program, now offers a four day option, and my dream of a Catholic school at Holy Spirit is just awaiting a confirmation from our new Bishop.
My much anticipated time spent on sabbatical was a blessing to me, one that passed much too quickly. I walked the path of Jesus in the Holy Land and followed in the footsteps of Saint Paul in Greece. Visiting these places, as well as Rome, the center of our faith, has invigorated me. I prayed for each and every one of you in these holy places. Thank you for your patience and for allowing me to have this experience. Fr. Phillips did a wonderful job taking care of the parish in my absence and deserves a special thank you.
As we approach the holiday season and the year draws to a close, be assured of my prayers for you in thanksgiving for the blessings you have been to me. I would ask that, as you begin making your preparations for the holiday season, please consider our parish's end of year debt reduction campaign. Gifts marked before December 31, 2016, may be used to receive a reduction on taxes that you file this year. Let your gift be a sign of your gratitude to the Lord for the many blessings of this year!
Yours in Christ,
Fr. Rudolf Crasta Fr. Jonathan Phillips
Pastor Associate Pastor
Father Rudi & Pope Francis at the Vatican October 2016
August 15, 2016
Dear Holy Spirit Parishioner:
Spiritual growth and renewal are an ongoing part of the life of any Christian.  They also are essential to our parish life.  An important part of this spiritual growth is embodied in the principle of stewardship.  Stewardship leads us to recognize the blessings we have received from God and to show our gratitude for the gifts we have received by returning to Him a portion of the time, talent and treasure He has given us.
During the next weeks, our parish will be conducting a stewardship renewal.  You will hear about the many opportunities to do God's work here at Holy Spirit.  Since stewardship is the whole parish's responsibility, I am asking everyone to participate. I would like to thank you for your involvement in our parish.  Please reflect on the following two specific areas of stewardship; Time and Talent and how you live them out in your life.
Time:  Committing more throughout the week in personal prayer, study, adoration, adult faith formation classes, etc.
Talent: Using your talents, skills, abilities and knowledge to benefit our parish family youth/adult ministries, parish missions and other worthy causes.
God is the origin of all of our gifts.  Jesus speaks of the faithful and prudent steward as one the master assigned the responsibility to manage resources.  A good steward receives God's gifts gratefully, cherishes and tends them in a responsible and accountable manner, shares them in justice and love with all, and returns them with increase to the Lord.
On the weekend of August 20-21, 2016, each Mass will have a lay minister talk, emphasizing the importance of Stewardship in all of our lives. Then on the following weekend, August 27-28, 2016, I will preach at all the Masses about the Spirituality of the Stewardship in regard to Time and Talent.  We will also make our time and talent commitments to God in church at each Mass that last weekend in August.
The Seven Commissions forming the foundation of our parish ministries and stewardship opportunities are summarized below.  I look forward to everyone's participation.  Take time to think about and recognize the abundant gifts you have received.  Reflect on how you can use those gifts to further His work here at Holy Spirit.
Sincerely yours in Christ,
Fr. Rudolf Crasta                                                           Fr. Jonathan Phillips
Catholic Education Conference
Catholic education was the central topic of discussion for three days during the first week of July 2016 in South Bend, Indiana. Over 50 priests from various diocese around the country gathered to discuss Catholic education on the University of Notre Dame campus. Our presenters were Fr. Joe, who is so much in love with Catholic education, and Sr. Julia, a full-time principal/teacher; who is giving up her life for the cause. They provided statistics and interesting insight into contemporary  21st century Catholic education issues. I am quite familiar with many of these as they are present at Christ the King Cathedral School here in our own back yard.
Father Rudi's Holy Land Reflection
Upon Father Rudi's return from his April trip to the Holy Land, he honored my request of recounting a few pilgrimage highlights. His first response was, "Celebrating Mass at the Holy Sepulchre." When asked what it was like, he responded, "No words can describe it, only tears."  I didn't press him any further. Instead considered I may have similar authentic response myself someday. 
I asked, "What it was like to walk where Jesus once walked"? He emphasized that over 2000 years had past since then, yet the circumstances and the various groups vying for control is still present. This situation defines the area. 
What surprised you when you were there? Or what did you see that you had not anticipated?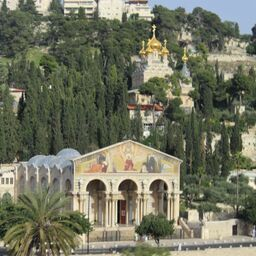 Father explained that the Garden of Gethsemane has been an important point of reflection throughout his life.  He has contemplated for years as to why  Peter couldn't sit with Jesus for one hour during the time Jesus was sweating blood as he prayed? Why did Peter fall asleep?  The Sanctuary 
Gethsemane
 was cool—tranquil; there was no excuse not to reflect.
Father came away with a new connection to Gethsemane. For as he he was in contemplative prayer, just as Peter had, he too fell asleep. He connected with Peter. He too felt condemned with Peter.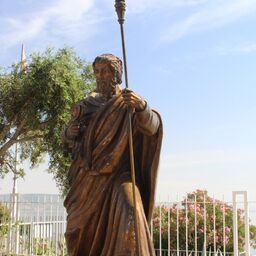 14th Annual Sausage Festival – April 24th 2016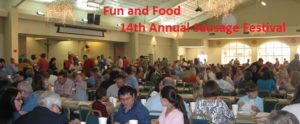 Smiley-faced volunteers were the highlight of the 14th annual sausage festival. What touched my heart was seeing young and old alike were seen sieving without reservation.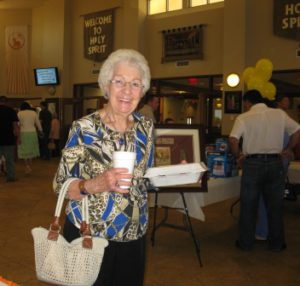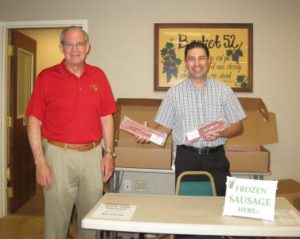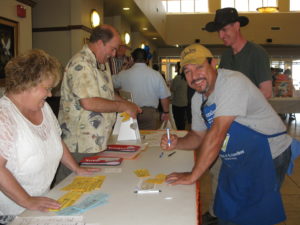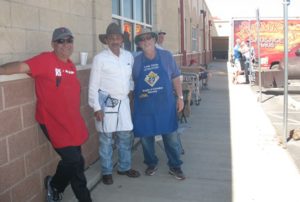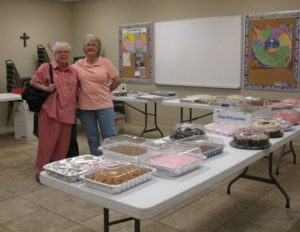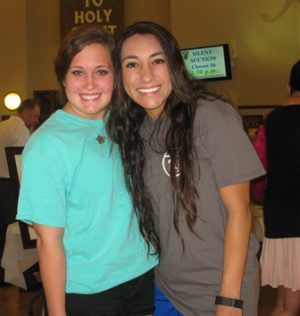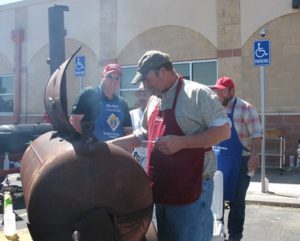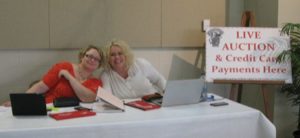 I cannot forget the work that was done behind the curtain for months that brought forth this beautiful day of community building and fund-raising. I won't try to mention names for their reward is great in heaven. Thank you for your continued support of our parish and responding to Our Lord's call to serve others.  Photo Gallery
Make me an Instrument of Your Peace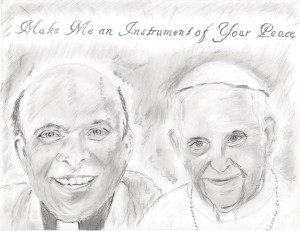 Many times it is our actions, our gifts and talents that are used to express our appreciation.
Drawing humbly submitted by Joseph Byrnes
Dear Friends of Holy Spirit Parish,                           January 17, 2016
Thank you for being a part of this vibrant community and the many ministries offered here. Every week-end I enjoy breaking the Bread and sharing the word of God with you. Our ever growing parish faces many challenges to keep our faith alive.
This year Holy Spirit's parish council and the development committee have set the following goals:
Up to 5% of our income to be designated for the poor. We have already begun to help 62 down-syndrome children in Guatemala.
Employ a youth activity director this year.
Planning stage for a full-time Parents Day Out program
Planning stage for opening an elementary school at Holy Spirit.
Continue our adult, youth, and children's faith formation programs.
Pay off our debt with an additional annual principal payment of $250,000.
All of these plans and our ever growing church bills need financial support. I encourage every family to buy or to sell at least one book (10 tickets) for our annual Sausage Festival raffle. This year a 2016 Ford 150 crew-cab pick-up and a handmade quilt will be raffled our raffle items. The drawing will take place on April 24th during our sausage festival. Raffle tickets are $10 each for the pick-up and $1 for the quilt.
I thank the many of you who are involved in various ministries such as teaching, cleaning, decorating, fundraising, caring for the poor, homebound, and the sick. The exceptional generosity of our parish is a blessing to me and many in our community. Please help me to make the 2016 Sausage Festival a great success.
Yours truly,
Fr. Rudolf Castra
Dear Parishioners,                                                                           December 2015
2015 began as a time to gather my thoughts on the growth of the parish and address ideas of how best to meet the needs of both long time parishioners and those that are new to our parish family.  November is now upon us and the end of the year is quickly approaching and I realize that this past year has brought many new opportunities for our parish families to increase and enrich their faith as individuals, married couples and families. It is refreshing to see that not only are our children learning about the Catholic faith in their religious education programs, but our adults have also taken up the call to continue to grow in their knowledge of our Church by taking advantage of the many new programs that are offered through   Adult Faith Formation.  This past year we have even begun reaching beyond the boundaries of our parish and inviting others to take part in our fellowship with events such as Footsteps In Faith, a concert by the Celebration Singers and the first ever RCIA conference designed to help all parishes in the Diocese of Lubbock with their own RCIA programs.  We look forward to hosting a few more guest speakers before we close out 2015.
December 8th will begin the "Year of Mercy" as declared by Pope Francis.  In this coming year, Pope Francis invites us to "constantly contemplate the mystery of mercy.  It is a wellspring of joy, serenity and peace." We are blessed with many opportunities to follow the call of Pope Francis; many of us have taken up the call to practice the Corporal and Spiritual Works of Mercy as part of our daily lives. We are reaching out to our community and setting an example to others of living our faith.  Many of our parishioners are sharing their time and talent throughout our community; serving and providing for the less fortunate at St. Benedict's Kitchen and Catholic Charities and also providing an outreach to the sick and homebound through our lay ministry programs.  The incredible response to our RCIA program in answering the call to evangelize and "bring them home" has resulted in more parishioners than ever giving of their time with a willingness to share their faith journey with others who are just beginning the process of becoming Catholics.  As we move forward to 2016, I encourage you all to look for ways to answer the call of Pope Francis.
Holy Spirit Catholic Church has been and continues to be blessed in a multitude of ways and I am thankful each day for all who contribute their time, talent and treasure to the continued growth of this parish.  As you begin making your preparations for the holiday season, I would ask that you consider our parish's end of year debt reduction campaign.  By marking your gifts before December 31, 2015, you will also be able to receive a reduction on your taxes that you file this year.  Let your gift be a sign of your gratitude to the Lord for the many blessings of this year!
Thank you again for making Holy Spirit great.  I look forward to celebrating the Season of Advent with each of you and invite you to take part in all of the joyful celebrations that the season will bring.
Yours in Christ,
Fr. Rudolf Crasta
Pastor
Our First Year with Father Rudi
Through the eyes of parishioners, Reverend Benedict Rudolf Crasta, better known as Father Rudi, seems to have enjoyed his pastoral role during his first year at Holy Spirit Catholic Church. His smile and enthusiasm are more contagious each week as we develop our pastor-parishioner relationship. He has become acquainted with us; our gifts, talents, and parish programs. In turn, we have responded to his down-to-earth evangelizing spirit and light hearted pastoral approach, with eagerness to learn more about our Catholic faith, encouraging each other, and spreading the joy of the Gospel within our families and community.
Father Rudi's passion for evangelization runs parallel to the enthusiasm of athletes chasing after a soccer ball or directing tennis or racquet balls to ideal positions to score points, which he often does. In fact, you can frequently find him chasing after one of those with fellow parishioners. He seems to like us, people in general, and wants to be engaged with parish family life. His genuine concern for our wellbeing is obvious as he takes time to listen to our triumphs and trepidations during conversations after Mass, at parish events, or during pool and ping-pong games.
On or off the court, he is actively on the ball, in the game, and behind those parishioners that lead the multitude of faith formation programs, lay ministries, and out-reach programs here at Holy Spirit.  Facilitators John Archer, David Powell, Brad Brooks, Jim Decker, Laurel Johnson, Sister Rose, Ed & Catherine Loskill, and Kay Villalba  along with so many lay leaders have engaged many us in Catholic 101, Faith Alive, ARISE, That Man is You, Marriage Enrichment, Dave Ramsey Financial Peace series, and Women's Bible study. He categorizes them on three levels: Knowledge, Spirituality, and Action. Father is looking forward to an increase in participation by 50% of adult parishioners in these faith formation programs.
Many of us have responded to Father Rudi's unique deliveries that communicate God's mercy and love. References to Sacred Tradition and Biblical passages during his homilies have educated and inspired us to embrace our Catholic faith and follow his lead. In addition to those joining the small faith sharing groups, almost all of us have become more acquainted with fellow parishioners by sharing in fellowship after Sunday Masses. Others have responded to Father Rudi's servant's heart which prefers to work alongside us rather than just directing us from the pulpit. Observing him physically rebuilding fences, pulling weeds and hauling rocks on the parish grounds, selling Sausage Fest raffle tickets, grocery shopping for parish events, giving counsel as needed, and visiting the sick and home-bound have motivated many of us to do the same.
Discipline, dedication, and discipleship contribute to athletic and spiritual victories such as the RCIA process. Facilitated by Juno Bishop, scores of parishioners sponsored RCIA candidates into the Catholic Church at the Easter Vigil this year. With parishioner's support, joyful hearts, and willingness to share our Faith, Father Rudi is hopeful 100 more souls join our faith community at the Easter Vigil next March. He aspires for all of us to join him on this faith-filled mission and chase after the grace of God.  As our pastor, he wants all of us on his team; involved in parish activities, nurturing our faith, volunteering for parish ministries, and encouraging each other through Catholic fellowship. He will not give up until he wins our hearts for God. He says, "Knock on: one person, one spirit, one door."
June 16, 2015    Jeannie Burrows