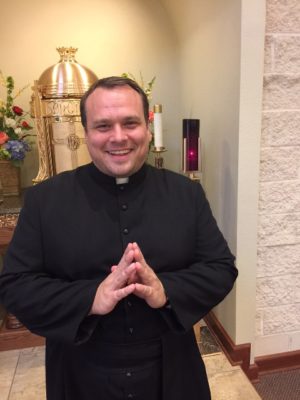 Seth Lorenz
If you began your seminary training here in Lubbock, what are three interesting characteristics of the diocese that helped you decide to begin or continue your seminary training in Lubbock?
The diocese is growing and there are many opportunities in this diocese, existing and new ones. Everyone is working for a stronger Catholic Church here in Lubbock and I want to be a part of that.
In what way has your internship here at Holy Spirit, this summer, helped to maintain your interest in continuing your seminary training and to continue pursuing your vocation to the priesthood?
There are so many people involved at Holy Spirit that it gives me hope, strength and courage to continue on. The parishioners have been supportive in every way and that gives me a lot of encouragement.
To help us understand the seminary training what is your current level of seminary formation what is your next milestone in seminary training, ordination, or the diaconate? Would you like to share how your original family foster your choice of vocation?
I have one more year of philosophy and then will be going to Theology School. My family is very supportive of my vocation. My parents never pushed me, but now I can see they did guide me. They knew I needed to look more into the priesthood and I thank them for their guidance.
How did you begin your journey to pursue your vocation to the priesthood? Are there specific situations, circumstances that inspired you to consider the priesthood? Was it someone or something during your early childhood, teens, adulthood, and/or an educational, sacramental retreat, parish or community event?
Ever since I was a child I have wanted to be a priest. For as long as I can remember, when people would ask what I wanted to be when I grew up, I would answer "Priest". I grew up in a very Catholic environment, a little German-Catholic-Farming community in central Texas and that had a big impact on my continuing desire to be a priest. The church was the center of all the activities. We were all farmers, from German ancestry, Catholic, and we had a lot in common. This Catholic environment continued in our home. We always prayed together and my parents really put God center in our home. Even school started with religion class and for High School I went to Catholic school. This continued into college, I went to a Catholic university. So through my whole life the Church was front and center. After college, I started working but the priesthood was always on my mind. Going to Mass, I would always think, "You're supposed to be up there and not in the pew". I finally realized this was a way of God calling me to learn more about the priesthood.
What are classes like in the seminary? Are they integrated with secular institutions? Is there a selection of degree plans available to you? Where have your travels taken you on your journey through the priesthood?
I attend Conception Seminary College in Conception, MO. This seminary is not attached to any University. Conception is the College. It is run by Benedictine Monks and is for diocesan seminarians only. Seminarians first receive a Philosophy degree and then attend Theology School. There are different classes that are offered that fit your interests, but they are designed toward this degree. For example, I do have to take English courses, but this fall semester I am going to be taking an English class called "Tolkien". He was a devout Catholic that wrote the "Hobbit" and "Lord of the Rings" book series. There is a lot of morality and Catholic ideals in these series that we will be discussing and writing about while reading the series.
Do you have time to enjoy any technical or recreational activities during your seminary training? Are there any hobbies or activities you enjoy during your down time from the seminary studies?
The Seminary does give us free time for recreation and relaxation. Our days are full of prayer and classes but the weekends are fairly free for us to use as our own time.
How can we as parishioners help you during the remainder of your time with us and during the upcoming academic year?
The biggest is prayer. Prayer for our continued discernment and listening to God.
Would you like to share your contact information with us? How can we stay in touch with you and you with us?
My contact info is: Seth Lorenz Conception Seminary 37174 State Hwy 'V V' Conception, MO. 64433
Email: setlung@yahoo.DE
Regular mail is the best though. For us at our Seminary, we are encouraged to correspond through letters instead of emails. It's much more personal.
Is there anything we as parishioners can do to help foster vocations within our parish?
Yes, encourage people to go to adoration. In the beginning the quietness and stillness can be difficult, but it will come.