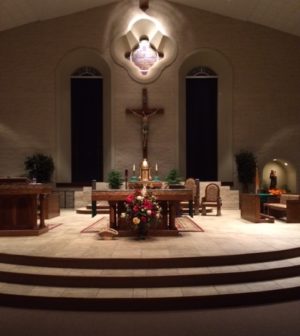 Hygiene Items Needed
The Diocese of Lubbock Catholic Charities is collecting hygiene Items to deliver to Catholic Charities in the Galveston and Houston area, at the end of the month, in response to an immediate need. Please contact Jennifer Lopez at Catholic Charities for any questions, 806.765.8475
You may drop the items in our Basket 52 collection basket at church, and we will deliver them to Catholic Charities.
Hurricane Harvey—A Story of Helping
Father Rudi asked I share my story about assisting the victims of Hurricane Harvey. I do not feel it is my story, but it is the stories of others which left an impression on my life.
I cannot say the initial plan was my own, but I was given an opportunity to join a few friends and provide assistance in some of the affected areas. I was initially told a couple men were going to cook approximately 1,500 meals for The Red Cross, Salvation Army, a few churches and shelters. The quantity of meals seemed overwhelming for two men, so I asked if I could help in this cause. The cooked meals were provided to victims, first responders, volunteers, etc. I feel we all get different types of calls in life to help others and do what is right. I would say I received the call to help our fellow man who is down on their luck.
In the end, the story I would like to share is the story of the first responders and volunteers who answered the call and helped others. One story which stood out the most, was one of the less fortunate families in the shelter. A mother and her young children were wanting to help our group and other people instead of taking care of their own needs. The gesture was heartfelt for their desire to help others while still in need.
Please pray for all the natural disaster victims and the less fortunate in their trying times. (Holy Spirit Catholic Parishioner asked to remain Anonymous.)
Prayer for Hurricane Victims Gracious and loving God,   We ask you to calm the hurricane, gentle the rains, and send clear skies for the recovery. Spare those who were uprooted and dislocated from further harm. Help those in the storm's way to return to safety, stability, and security.  Open our hearts in generosity to all who have no resources, whether physical, spiritual, or economic. In all things and at all times, help us to remember that when the storms of life come upon us,  you are always with us, leading us to shelter, guiding us to safety, comforting us in our need.  We ask this through Christ our Lord.  Amen.  – Office of Worship, Diocese of Dallas, adapted from Diocese of Austin –
Holy Spirit continues to give in many ways to support the relief efforts after Hurricane Harvey. Several of our parishioners were involved in taking their grills and cooking meals. Several other groups are planning trips to the Houston area to help in rebuilding efforts. We will be sending a check to the Diocese for $7,346.23 for use by Catholic Charities.  Father Rudi traveled to Houston to personally deliver a $20,000 check to St. Vincent de Paul of Houston. Your generous support and willingness to serve truly exemplifies Love in Action! Thank you for your kindness and generous hearts.