Celebration of Our Lady of Guadalupe
Holy Spirit Catholic Church
December 12, 2017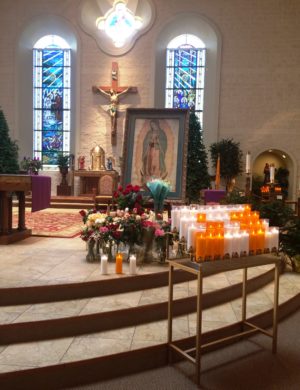 We celebrated the Feast Day of Our Lady of Guadalupe this morning beginning at 6:00 with Mañanitas (songs to Mary) in McGivney  Hall. We processed with flowers, candles, and the portrait of Our Lady into the sanctuary at 6:15. There, we individually presented our candles, prayers, and flowers on the altar. We listened to Mariachi music with Rick Martinez, prayed a decade of the Rosary and then celebrated Mass at 6:45 am.
Coffee and breakfast was served in McGivney Hall compliments of parishioners and the environmental committee. Thank you to all those that helped make our first Our Lady of Guadalupe celebration possible.
Please note, we will not have evening Mass or confessions on Tuesday, December 12th.  Three priests will be available for confessions on Wednesday, December 13th from 6—8:00 pm, on Tuesday, December 19th at 6:15.  Confessions are also heard on the following Saturdays; December 16th and December 23rd at 3:00 pm. Please join with your parish community as we journey through Advent and prepare for our Christmas season. Please note that the last day for confessions is December 23rd. There will not be confessions again until Tuesday, January 2nd.