Missionary Sisters of The Lord's Table
Holy Spirit is very blessed to have three new members of the Missionary Sisters of the Lord's Table, from the Philippines, serving the needs of our Lubbock diocese. We welcome, Sister Madonna, Sister Sylvia, and Sister Evan.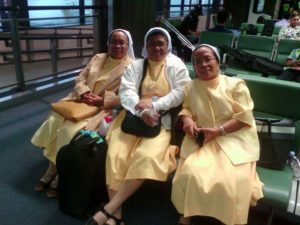 Sister Madonna Canja will join Sister Rose providing spiritual and faith guidance to our parish family, provide spiritual care for the sick and dying, and offer guidance and support to parents of CCE children. Sister Rose will continue to coordinate monthly Baptism classes and Sister Madonna will teach Basis Ecclesial Community Classes 
BEC ;
which are designed to help parents and guardians in their role as members of the Holy Spirit Christian Community, on Sundays and Wednesdays at the same time CCE meets. They also assist coordinating the Book Club on Monday mornings at 9:15, the Women's Bible Study that meets on Wednesday mornings at 9:15 and Lives of the Saints at 9:15 on Friday mornings. Both sisters are available for house blessings and Bible enthronement. Sister Rose may be reached at 806.790.3654 and Sister Madonna at 806.407.7383.
Sister Carmela leads the Lubbock mission as Superior and Sister Rose is the Procurator. Sister Carmela is assigned to Covenant Hospital serving the needs of Lubbock Diocese parishioners.
Photo below: Msgr. Rendon's 40th anniversary of his priesthood ordination. Sr. Carmela, Msgr. Rendon, Sr. Rose, Sr. Sylvia, Father Philip, Deacon Steve Tija, Sister Madonna, a friend, Sr. Nancy, and Sr. Evan.
Sister Evangeline Camano is the Director of Vocations. Sister Sylvia Salvan will be serving at St. Elizabeth parish.  Of course you will see them with Sister Rose and Sister Madonna at various parish and diocesan events. With their friendly demeanor, it is even more likely you have already enjoyed a smile, prayer, or conversation with them. Unfortunately, we will soon bid farewell to Sister Nancy Palanog, whom has served at St. Elizabeth's parish for nine years. She will return to the Philippines in October after orienting Sister Salvan to the duties at St. Elisabeth's.
Who are the Missionary Sisters of the Lord's Table?
We are a religious congregation of women with pontifical right and are under the jurisdiction of the Holy See. MSLT promote international relations and have seven missionary areas; one is here in Lubbock and the others are in the following Philippines provinces: Antique, Palawan, Iloilo, Quezen City, Romblon, and Masbate. Our congregation was founded in Antique on September 3, 1962 under the direction of Rev. Cornelius de Wit, MHM. Photo: MSLT mother-house Antique, Philippines. (Back row L-R) Sr. Alice, Sr. Naty, Sr. Ping, Sr. Madonna, Sr. Nelly, Sr. Emilda, (Front row L-R) Sr. Che, Sr. Dioneta, Sr. Annalyn, Sr. Elfa, Sr. Imelda.
We are called to an intimate union with God and the fellowship with others around the table of The Lord. We live a life centered on the Word of God and the Body and Blood of the Lord. We are called to reach out to people in towns, cities, and far places, in mountains and hills, on islands and open seas. We are sent to proclaim the Good News of life, hope, mercy, compassionate love, and reconciliation to all people.
What the Missionary Sisters of the Lord's Table do? The apostolates of our congregation include catechetics and religious education and parish work in urban communities and barangays. As MSLT they enjoy providing liturgical renewal, forming basic ecclesial community, assisting with formal religious education, family and life instructions, and training and formation of lay leaders. Our missionary sisters facilitate seminars and retreats, provide social-health services (medical clinic missions), provide spiritual guidance within their hospital and prison ministry, as well as hosting mass media programs and Bible Apostolate.
Each community works together coordinating their scheduled assignments to pray together as a community. Our MSLT in Lubbock, as well as those assigned around the globe coordinate their individual assigned commitments, to gather for prayer together. This includes: Lauds (morning prayer) and vespers (evening prayer), Adoration to The Blessed Sacrament, personal benediction, devotions to Our Blessed Mother praying the Holy Rosary as a community and additional personal devotions. Keeping in touch with fellow members of the congregation around the globe is facilitated by the modern technology available to them. The MSLT assigned to us here in Lubbock keep in touch with their fellow sisters in Philippines, various international mission stations, and their family and friends.
The Missionary Sisters of the Lord's Table accept women interested in pursuing a religious vocation and the formation team offers their support as they discern God's call. The formation team interviews women between the ages of 18-30 years who have completed at least their second year of college. Entrance qualifications include; being filled with love for God and His people, have a readiness to follow Christ, and are of normal health and intelligence.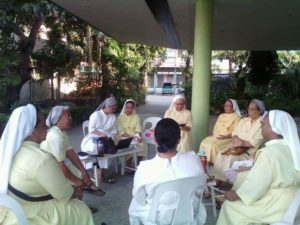 If a woman selects the MSLT congregation, she enters as 'aspirants' her first level of formation. During the second level of formation, she becomes a 'postulant'. After a year as a postulant, she enters her third stage of formation and becomes a 'novice' for two years. Upon completion of this third year, the novice has the opportunity to profess her temporary vows, which will lead to her first profession as a MSLT. She renews her vows annually and is given five to nine years to discern her perpetual vows.
Photo: BEC small group sharing Antique, Philippines
Mensa Domini Vocation Prayer
O Divine Jesus, Son of the Eternal Father and Mary Immaculate grant to our youth true generosity in following Your call and bestow upon them the grace to persevere in overcoming all the obstacles to their vocations.
Give to parents, likewise, that faith, love and spirit of sacrifice which shall inspire them to offer their children to God's service and to rejoice when a child of theirs is called to the priesthood or religious life. 
Let Your example and that of Your Blessed Mother and St. Joseph encourage children and parents, and let Your grace sustain them. Amen!
St. Joseph, pray for us.
St. Pius X, pray for us.
St. Lorenzo Ruiz, pray for us.
St. Pedro Calungsod, pray for us.
St. Teresa of Avila, pray for us.
St. Therese of the Child Jesus, pray for us.
Photo: The Missionary Sisters of the Lord's Table Treasury, Antique, Philippines
To learn more about the Missionary Sisters of the Lord's Table, please write to:
Sister Evangeline Camano; Director of Vocations  MSLT
5718 108th Street
Lubbock, TX 79424