Christ Teach Us
'
For I was hungry and you gave me food, I was thirsty and you gave me drink, a stranger and you welcomed me, naked and you clothed me, ill and you cared for me, in prison and you visited me. Amen, I say to you, whatever you did for one of these least brothers of mine, you did for me.' Matthew 25: 35 -36, 40
Holy Spirit Catholic Church is committed to acting as an example by responding to the needs of the poor and disadvantaged. We want to be an example by saying that we tithe to Holy Spirit Catholic Church and in turn our Parish tithe's to the poor and disadvantaged. Tithing also has a scriptural basis, for instance see: 2 Corinthians 9:6-9 or Proverbs 11:24-26 below. How can our Parish ask our Parishioners to commit to acts of faith and the Parish not do also?
Your Holy Spirit Dollars at Work
The children's collection from the first weekend of each month has been designated to be sent to Guatemaltecos Extraordinarios. This organization is dedicated to serving the families of the most impoverished in their area in Guatemala City.  This month we collected $608. The September and October collections resulted in a $1200 check being sent. The November and December collections totaled $1,715 which will be delivered this month.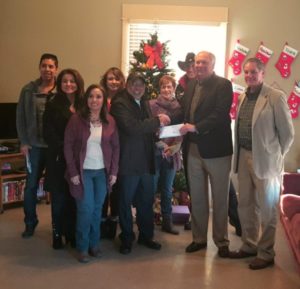 As part of Fr. Rudi's pledge to give 3% of church tithing to the needy and with oversight from the benevolence committee, donations have been made to several worthy organizations. On Friday, January 5th a $17,000 check was presented to Family Promise. The money will be used to expand Promise House in an effort to help more families in 2018 achieve self-sufficiency and leave homelessness behind.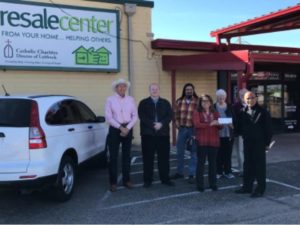 In November a check for $4,991 was given to Catholic Charities Resale Center to purchase much needed security cameras.
Grace Campus received $4,000 in April to build a much needed fence on their property to increase security.
An additional $4,500 was used to assist individuals and families  through the Social Action committee. The needs were verified through Care Portal, St. Benedict's, Catholic charities, and Grace Campus.
"The generous man will be prosperous, and he who waters will himself be watered." Proverbs 11:25
Holy Spirit is truly blessed by the spirit of unselfish giving in our parish. Read more about the HSCP Benevolence Ministry here.
Benevolence Grant Application Steps
Follow these steps to apply. The grant evaluation process may take up to 8 weeks.
Download the Benevolence Application (Click here to download the application)
Follow the instructions to complete the application and prepare the required documents
Email the completed application and required documents to: billc@holyspiritlubbock.org
Expect to wait. You will be notified within 8 weeks.