Adult Faith Formation Commission
Marian Classes added to Adult Faith Formation
You will soon be receiving information about adult classes that will be offered at Holy Spirit beginning in September. Two new classes will be Marian Education classes. If you would like a deeper understanding of the approved miracles and messages of Mary, plan to attend class on Wednesday from 600 –7:00 pm. A six-week class on Mary, Mother of God will be held Sunday mornings at 9:15 am. Topics will include, Mary, Mother of God; Ark of the Covenant; The New Eve; The Immaculate; the Mother of the Church and more.
Please check back later in August 2017 to see the updated adult formation classes. Below are some of the classes that met in 2016-17. Thank you.
A Place of Welcome and Service to All
Holy Spirit Catholic Church
2016-2017
Come Join The Spirit!
Come Join a Class!
or Become a Volunteer!
Vision: To invite and motivate every adult of HSCC so that we can form a perfect Body of Christ.
Adult Faith Formation Commission Director: John Arcisz, 469.261.8637.
COMMITTEE MEMBERS: David Powell, Brad Brooks, Kelly Shehan, Heather Hormel
 Synoptic Gospels
Leader: Father Ruban
Discover the life of Christ through Gospels of Matthew, Mark, and Luke
Tuesday evenings at 7:00  (10 weeks)
Hargrave Conference Room
Young Adult Group
Leader: Kelly Shehan
Ages 21-30-something
Meets on Wednesday evenings at 7:30
For those who want to build community with other young Catholics and grow in their faith.
Contact: Kelly Shehan 806.290.1108 or kelly_shehan09@hotmail.com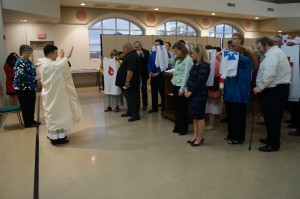 RCIA Rite of Christian Initiation
Leader: Juno Bishop
A yearlong program for adults who are interested in joining the Catholic faith.
Meets on Thursday evenings from 7-9:00 in McGivney Hall.
Studies include the Bible, Gospels, salvation history, the sacraments, Mary, saints, early church fathers, purgatory, Church authority, Mass, and more.
Contact: Juno Bishop 806.777.5348 jumom.bishop@yahoo.com 
Faith Alive (Bible Study)
Leaders: Laurel Johnson & David Powell
Revelations the Apocalypse – John's vision in heaven on the Lord's Day. Get to know the Beast, 144,000 saved, the whore of Babylon, bowls of Cures and Blessing. See the men in white linen garments, candelabras, incense, altars, Lamb slain yet standing, and so much more…
Meets on Sunday mornings from 9:15-10:15
Meets in Room 128
An interactive class that answers any questions you may have concerning your faith.
Catholic 101
Leader: David Powell
Topics: Begins with the proof of God. Includes the Bible, God's covenant plan to save us and Christ's fulfillment in the sacraments. We will study Mary, Purgatory, Hell, Heaven, and everything you wanted to know about your faith.
A Scripture-based open dialogue format to guide you through gaining a better understanding of "Catholicism
Meets on Wednesday evenings from 6-7:00 pm.
Room 128
Contact: David Powell 806.239.0804 lubbockcommercial@gmail.com
Women's Bible Study
Leader: Sister Rose Erispe, M.S.L.T.  Sponsor: Veronica Solis
Theme: To enrich our Catholic faith through formation, so that we can minister and strengthen our families and our parish.
This group meets on Mondays at 9:15 am for Book Club, on Wednesdays at 9:15 for Bible study, and on Fridays at 9:15 am for Movies of the Saints.
We begin our meetings with the Rosary and personal prayer intentions.
Study materials include DVDs and books selected from EWTN or Ignatius Press.
No prerequisite or prior participation is necessary to attend.
All meetings are held in Room 118 of the Driscoll Education Building.
Come to one or all of the meetings!
Catholic on Purpose
Leader: Eben Emerson
An adult faith formation series that helps one discover why living as an intentional Catholic has purpose and meaning. Eben is a former Church of Christ minister who converted to Catholicism and now teaches high school religious education at CTKC School.
Meets on Sunday mornings from 9:15 – 10:15
Meets in Room 220
The Bible Timeline
Leader: Judy Johnson
A 23 week DVD Bible Study program which ties together Catholicism, the Bible, and the life of the Church.
Class meets on Thursday evenings from 6:30-8:30
Meets in Room 118
Practical Spirituality
Leaders: Ed & Kathryn Loskill
Theme: Reawaken your spirituality and faith and to bring the faithful back to the sacraments
Topics: forgiveness, mercy, sacraments and prayer
Meets on Wednesday from 6-7:00 pm year round
First 30 minutes are dedicated to learning
The Divine Mercy Chaplet is recited during the last 30 minutes
Basic Ecclesial Community (BEC) Classes
Leaders: Sister Madonna
Helps parents recognize their role as members of the Holy Spirit Christian Community
Starts September 18 & 21, 2016
Meets on Sundays & Wednesday during CCE class times
Room 118
The Choice Wine: Seven Steps to a Superabundant Marriage
Leaders: John & Leslie Arcisz, David & Beth Hinojosa, Charles & Bonnie Chavez
Theme: Interactive nine-week multimedia program specifically designed for couples
Choice Wine is a pathway to authentic marital happiness.
Couples will learn how to virtually divorce-proof their marriages, experience the superabundant love and mercy of God, and realize a foretaste of Paradise in their marriages and families.
Website Video here
Meets on Sundays at 7-8:30 pm in Room 223
Child-care will be available.
Begins September11, 2016
Dave Ramsey Financial Freedom
Leader: Tim Kelley
Nine-week video course that presents a financial plan designed to help you get your finances in order, get out of debt, and achieve financial freedom incorporating Christian principles
Meets on Mondays from 6-8:30 pm in Room 128
Contact Tim Kelly 806.281.7550 tkelly34@hotmail.com
Genesis to Jesus Online Study
Leader: David Powell
Theme: An intense self-paced study of the profound link between the Old and New Testament Scripture and the Catholic Faith
Website StPaulCenter.com